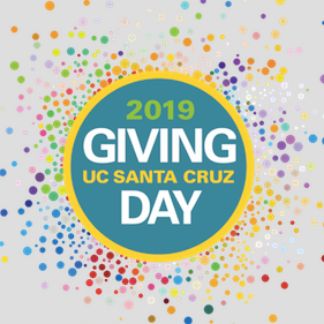 On February 27, 2019 UC Santa Cruz will host the fourth annual Giving Day campaign, a 24-hour online fundraising event.
We're raising money to support our sociology students and their continued work in challenging dominant norms and structures that perpetuate social inequalities. 
Sociology@UCSantaCruz takes scholarly leaps into the dynamics of social action: agency and governance, politics and mediation, identity and difference, social justice and ethics, democracy and sustainability, technologies and environment, affect and politics. 
Visit the Giving Day site to make gifts or track your favorite projects' donations in real time.

Incentives to give include matching funds: if you are interested in matching funds for specific projects, please email sociology@ucsc.edu. 
Challenges throughout the day reward teams attracting the greatest number of donors during specific times, consider donating during the "Mad Dash" from 6:00pm - 8:00pm.
The minimum amount to donate online is $10. Campus events including accepting cash donations, of any amount, a photobooth, and pizza will be on offer on in Quarry Plaza.
Follow Sociology@UCSantaCruz on Twitter or Facebook and help spread the word about all of our projects using the hashtag #give2UCSC on social media.
Challenge Schedule
| | | | | |
| --- | --- | --- | --- | --- |
| Challenge | Time | 1st Place | 2nd Place | 3rd Place |
| Night Owl | 12 - 1:00am | $1,000 | | |
| Early Riser |  7 - 8:00am | $1,000 | | |
| Espresso Express |  9 -  9:30am | $1,000 | | |
| Morning Madness | 10 - 11:00am | $1,000 | | |
| Midday Motivator | 12 - 2:00pm | $2,500 | | |
| Happy Hour |  3 -  4:00pm | $1,000 | | |
| Mad Dash |  6 - 8:00pm | $5,000 | $2,500 | $1,000 |
| Final Frenzy | All Day | $10,000 | $5,000 | $2,500 |