Sociology Faculty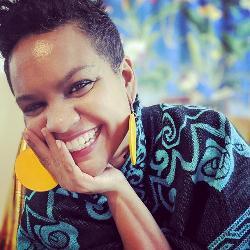 Pronouns she, her, her, hers, herself
Title

Assistant Professor & Core Faculty in Global and Community Health Program

Division Social Sciences Division
Department
Affiliations Environmental Studies Department
Phone
Email
Website
Office Location

Rachel Carson College Academic Building, 322

Mail Stop Rachel Carson College Faculty Services
Mailing Address

1156 High St.
Santa Cruz CA 95064

Faculty Areas of Expertise

African Diaspora, African American / Black Studies, Agroecology and Agriculture, Environmental Studies, Critical Race and Ethnic Studies, Latin American and Latino Studies, Social Justice

Courses SOCY 143: Black Botanical Medicine in the Americas; SOCY 135: Healing Justice; SOCY 196S: Race, Somatics, and Food Pedagogy; SOCY 240: Inequality and Identity
Summary of Expertise
Short Bio:
Naya Jones, PhD (she/her) is an Assistant Professor of Sociology at UCSC and Core Faculty in the Global and Community Health Program. She is a critical geographer and cultural worker. For solo and collaborative projects, she focuses on Black diaspora geographies of health, ecologies, and healing using arts-based methods. She also studies critical and embodied approaches to teaching and research. Her work has been published in academic journals and on creative platforms.
At UCSC, Dr. Jones co-facilitates the Black Geographies Lab with Drs. Camilla Hawthorne, Savannah Shange, and James Doucet-Battle. She recently launched the Black Botany Studio, her research lab focused on Black diaspora plant knowledge amid climate injustice, on-going displacement, and everyday thriving.
Among current projects, Dr. Jones is working on a book and multimedia project about Black botanical knowledge and the Great Migration, the migration of an estimated six million Black Americans from the United States South to other parts of the country from the 1910s to the 1970s. Using arts-based methods, she continues to study Afro-Latinx and Black Mexican geographies of health and healing, and you can find her writing about embodied pedagogies for the Radical Food Geographies Book Project. For more, visit www.nayajones.com.
Testimonio/Notes on the Work
Ancestors, teachers, and community members with whom I continue to work, make all of the work possible. As an artist-scholar, archiving, reclaiming, and reimagining "old ways" is central to my solo projects as well as collaborations. I often partner with cultural workers and artists, community healers and gardeners. These old ways are sometimes referred to as traditional medicine or indigenous knowledge, and I critically grapple this language in the context of Black geographies. Drawing on old ways and on bodies of knowledge such as Black and Xicana feminisms, my research and creative practice are grounded in ways of knowing that are embodied, multidimensional, and multi-sensory. I draw on my background as a healing justice practitioner and strategist of 14+ years. Prior to returning to academe, I partnered with Black, Indigenous, and People of Color-led organizations as they reimagined ancestral healing ways and strategized collective sustainability; I also worked closely with social justice organizations who are committed to anti-racism. These experiences inspire my committment to public and arts-based scholarship.
Research Interests
Black geographies of health and healing; Black ecologies; Black botany; reimagining ethnobotany; philosophy of science; critical food studies; politics and practice of Traditional and Indigenous medicine; spirituality and activism; critical and embodied pedagogy; arts-based methods; African-American Studies; Afro-Latinx Studies (focus on Mexico)
Biography, Education and Training
2020 / Postdoctoral Fellowship in Primary Care Research - Medical College of Wisconsin
2016 / PhD, Geography & the Environment - University of Texas at Austin
2008 / MA, Latin American Studies - University of Texas at Austin
Honors, Awards and Grants
Selected Recent Awards/Grants
2021-2022 | Sprout Grant (UCSC Institute for Social Transformation)
2020-2021 | Anne S. Chatham Fellowship for Medicinal Botany (Garden Club of America)
2020-2021 | Folk Arts Apprenticeship Grant w/ Ms. Angela Smith (Wisconsin Arts Board)
2017-2020 | Culture of Health Leader (Robert Wood Johnson Foundation)
Selected Publications
Hirsch, L. and Jones, N. 2021. "Incontestable: Imagining Possibilities through Intimate Black Geographies." Transactions of the Institute of British Geographers, Access >>
Jones, N. 2021. "Prologue: Black Dream Geographies." Part of themed intervention in Transactions of the Institute of British Geographers, Access>>
Jones, N. 2020. "Intervention: Corner Stores, Surveillance, and All Black Afterlives." In Antipode Online. Open Access>>
Jones, N. 2019. "Dying to Eat? Black Food Geographies of Slow Violence and Resilience." In ACME: An International Journal for Critical Geographies, 18 (5), 1076-99. Open Access>>
Cotter, E, and Jones, N. 2019. "Review of Latino/Latinx Participants in Mindfulness-Based Intervention Research." Mindfulness, 11.
Thomas, KD and Jones, N. 2019. "Critical Reflexivity: Teaching About Race and Racism in the Advertising Classroom." Advertising & Society Quarterly, 20 (2).
Jones, N. 2018. "'It Tastes Like Heaven": Critical Food Pedagogy with Black Youth in the Anthropocene." In Policy Futures in Education, 17(7), 905-923.