Sociology Faculty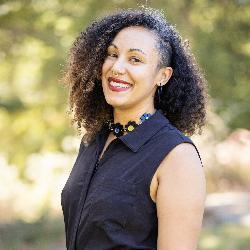 Pronouns she, her, her, hers, herself
Title
Division Social Sciences Division
Department

Sociology Department
Critical Race and Ethnic Studies

Affiliations Science & Justice Research Center, Legal Studies, John R. Lewis College
Phone
Email
Website
Office Location

Rachel Carson College Academic Building, 204

Office Hours Wednesdays 2:00-5:00; and by appointment (sign up online at bit.ly/2CKDGF3)
Mail Stop Rachel Carson College Faculty Services
Mailing Address

1156 High St.
Santa Cruz California 95064

Faculty Areas of Expertise

Sociology, African Diaspora, Critical Race and Ethnic Studies, African American / Black Studies, Immigration, Activism, Discrimination and Inequality, Labor and Social Movements

Courses SOCY105B: Contemporary Social Theory, SOCY117E: Migrant Europe, SOCY170P: The Political Economy of Race, SOCY196S: Black Geographies and the Imperative of Abolition, SOCY202: Contemporary Social Theory, SOCY240: Identity and Inequality, SOCY290W: Black Geographies
Summary of Expertise
I am a critical human geographer and interdisciplinary social scientist broadly interested in the racial politics of migration and citizenship, inequality, social movements, and Black geographies. My work sits at the intersection of critical public policy studies, diaspora theory, Black European studies, and postcolonial/feminist science and technology studies.
I currently serve as Chair of the Black Geographies Specialty Group of the American Association of Geographers. I am an executive committee member of California Italian Studies, a member of the editorial boards of Environment and Planning D: Society & Space, Critical Ethnic Studies, Political Geography, and Dialogues in Human Geography. In addition, I am project manager and faculty member of the Black Europe Summer School, a two-week intensive course on citizenship, race, and the Black diaspora held each summer in Amsterdam, the Netherlands.
Research Interests
Our current moment is characterized by the largest international mass migrations of people in recent history and the resurgence of explicitly racist, xenophobic nationalisms. Southern Europe stands at the forefront of these global transformations. Over one million refugees and asylum-seekers, many from sub-Saharan Africa, have crossed the Mediterranean Sea since 2015, and their presence in European countries has been met with varying degrees of marginalization and outright violence. Scholars have responded by studying the lived experiences of refugees, border securitization, and solidarity movements. Comparatively understudied, however, are concurrent contestations oriented on national citizenship. The most prominent of these is the movement to reform Italian nationality law and provide a path to citizenship for nearly one million children of immigrants born in Italy.
My forthcoming book My current book project, Contesting Race and Citizenship: Youth Politics in the Black Mediterranean, asks why and how Black Italian activists have taken up national citizenship as a privileged terrain of struggle over race and membership in Italy. What new forms of differentiation and exclusion are emerging in these efforts to reformulate and expand Italian citizenship? I argue that citizenship—and specifically, longstanding debates about the legal inclusion of Black subjects within European polities—is key to understanding the connection between subtler, late-twentieth century "colorblind" or "cultural racisms" and the increasingly overt racial nationalisms of the last decade. This project is based on multi-sited, mixed-methods research conducted in Italy over five years (2013–2017).
I am also interested in the possibilities and limitations of the "Black Mediterranean" for understanding racial criminalization and racialized citizenship in Italy, and southern Europe broadly. How might this framework help to connect Black liberation politics and refugee rights mobilizations in Europe? These are questions I take up with my collaborators from the Black Mediterranean Collective in a co-edited volume about racial subordination and resistance in the Mediterranean, entitled The Black Mediterranean: Bodies, Borders, and Citizenship (Palgrave Macmillan, 2021).
Biography, Education and Training
2018 // PhD, Geography, UC Berkeley (designated emphasis: Science and Technology Studies)
2010 // MPA, Brown University
2009 // AB, International Relations (with honors) and Africana Studies, Brown University
Honors, Awards and Grants
2020 // UC Santa Cruz Humanities Institute Research Cluster Grant
2020 // UC Santa Cruz Faculty Research Grant
2020 // UC Santa Cruz Institute for Social Transformation Building Belonging Grant
2020 // UC Santa Cruz Hellman Fellow
2020 // UC Santa Cruz Institute for Social Transformation Book Manuscript Accelerator Grant
2019 // UCHRI Short-Term Research Residence Award (Co-PI with Jennifer Kelly)
2019 // UC Santa Cruz New Faculty Research Grant
2018 // UC Santa Cruz Carnegie Fellows Nominee / National Carnegie Fellows Finalist
2015 // UCHRI Workshop Grant
2015 // UC Berkeley Townsend Center for the Humanities Conference Grant
2014 // UC Berkeley Center for Science, Technology, Medicine, and Society Fieldwork Grant
2014 // Ford Foundation Predoctoral Fellowship
2012 // Eugene Cota-Robles Graduate Fellowship
2010 // Presidential Management Fellowship
2009 // Liman Public Interest Law Fellowship
Selected Publications
Books
Journal Articles
Journal Special Issues Edited
Book Chapters
Selected Recordings